With the PerfectFresh pro system your food stays fresh up to five times longer. The automatically controlled drawer keeps meat, fish and many dairy products fresher for up to three times longer between 0 °C and +3 °C and Fruit and vegetables fresher for up to five times longer – thanks to optimised humidity controls on the drawer.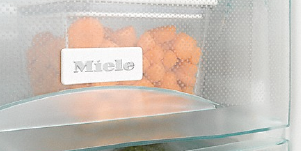 One of the biggest things we get asked for is frost free fridge freezers and With the Miele NoFrost system you never have to defrost your Miele refrigeration appliance again. The NoFrost system distributes cold, dry air evenly so that ice cannot form in the interior cabinet. Furthermore, ice deposits do not form on your frozen food and, without layers of ice on the interior, drawers can always be opened and closed easily.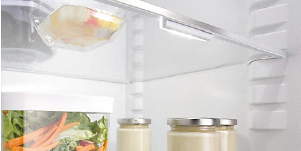 Ever struggle to see things inside of the fridge? The new FlexiLight LED glass shelf lighting illuminates the interior of Miele refrigerators with no glare and with a unique luminosity. It can be positioned on whichever shelf level you need it on. It can even be positioned so that it is not blocked and so the illumination of the interior is not impaired depending on the size of items inside the unit.